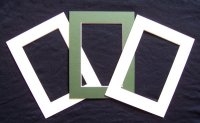 Hello, and thank you for visiting the website of www.picturemounts.co.uk.
Having worked in the art, framing and picture mount world for more years than we care to remember, we know how addictive painting, in all its forms, and photography are. We know that if the service that we offer is friendly and consistent, and prices keen, you, the customer, will return again and again. This is what we seek.
Our lists of standard sizes and cuts are comprehensive, though we know that needs change quickly, especially in the photographic field. Special sizes are not a problem for us. We do hope that you will request a quote for your particular need, rather than logging off thinking that we do not do it.
Give us a go. We will turn your order around as fast as possible, usually within a few days. We look forward to serving you.
15th January 2015: "We don't like it, but it has to be done."
For the first time since January 2012, we have today raised our prices by 5%, responding to yet another increase in the board cost. Carriage costs remain untouched. Still no V.A.T.
Best wishes for the New Year.
11th August 2013: We are now able to accept online payments via Paypal. We hope that this will prove even more convenient for you when placing your orders! You will still be able to pay by cheque, or by providing credit card details by phone or post if you would prefer.
25th April 2013: Until now we have sent all of our goods by Royal Mail. For unfathomable reasons their system, previously based on weight alone, has been superseded by a system of weight and size. In effect anything larger than a box of tissues has more than doubled in price. Madness!
Our quoted postage prices are now, therefore, based on the service of couriers. If your area relies on, or you prefer that we use, Royal Mail, please email (info@picturemounts.co.uk) or telephone (01460 30323) and we will quote their price. Similarly, if you are based overseas, please get in touch; we will be delighted to help you but we need to be able to quote accurate carriage charges.
Best regards,
Mike Dymond.
PS: why not check out our clearance pack section?
---
www.picturemounts.co.uk - last updated 31/12/2015