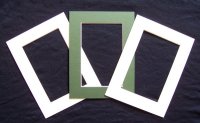 Hello, and thank you for visiting the website of www.picturemounts.co.uk.
Having worked in the art, framing and picture mount world for more years than we care to remember, we know how addictive painting, in all its forms, and photography are. We know that if the service that we offer is friendly and consistent, and prices keen, you, the customer, will return again and again. This is what we seek.
Our lists of standard sizes and cuts are comprehensive, though we know that needs change quickly, especially in the photographic field. Special sizes are not a problem for us. We do hope that you will request a quote for your particular need, rather than logging off thinking that we do not do it.
Give us a go. We will turn your order around as fast as possible, usually within a few days. We look forward to serving you.
Our quoted postage prices are based on the service of couriers rather than Royal Mail, as they are generally more economical. If your area relies on, or you prefer that we use, Royal Mail, please email (info@picturemounts.co.uk) or telephone (01460 30323) and we will quote their price. Similarly, if you are based overseas, please get in touch; we will be delighted to help you but we need to be able to quote accurate carriage charges.
Best regards,
Mike Dymond.
PS: why not check out our clearance pack section?
---
www.picturemounts.co.uk - last updated 02/05/2018